Lazio 2000 Champions
Lazio of Rome captured their second championship in 2000. They earned the title, leading the Serie A through most of the season, only to see the championship apparently slip away in the 2nd half. This page recaps Lazio history and that victory run.
Season News

S.S. Lazio Championship season.  
SuperCup, Scudetto and Coppa Italia:  


Statistics for Serie-A 1999-2000. Also see Champions List of Italian Scudetto winners since 1898. For photos of the 2000 Serie A champions, start here at the Celebrazio Photos gallery entry page.



The 1999-2000 season is by far the most glorious in Lazio's history, coincinding with the one hundredth birthday of the Societa' Sportiva Lazio. The appetizer is the UEFA SuperCup in Monte Carlo against Manchester United, followed by a historic double: Scudetto and Coppa Italia. At the end of an incredible season, with Lazio always starring, and after a thrilling end down to the last game, they gain 10 points on Juventus in the last 8 games! It marks the first time in Serie A history that any team has come from so far behind to capture the league title. It broke an 8-year domination of Serie A by two clubs: A.C. Milan (5 titles) and Juventus (3 titles), during which Lazio finished runner-up twice.

Champion Jerseys and other memorabilia available now on Lazio Store.
Victory Day News

Juve drown in Perugia - Lazio win Scudetto 
14 May 2000 

Juventus's hopes of winning their 26th Scudetto were washed away at the Renato Curi stadium after a nail biting finale. Juventus were limited to long range shots by Perugia, who set out their stall defensively and were difficult to break down. The danger man in the first half of this game was Alessandro Del Piero, who with his slalom runs had exposed Perugia's defence at times and Juventus came close on 20 minutes when Pippo Inzaghi shot wide of Andrea Mazzantini's goal. A free kick on 21 minutes by Del Piero and a shot just wide of the post from Zinedine Zidane on 40 minutes, were the best chances Juve had in a frustrating half. Juventus were occasionally put under pressure, but with 17 clean sheets this season and only 19 goals against, Perugia seemed lost for ideas.
Heavy rain delayed the start of the second half by over an hour, but within 5 minutes a poor defensive clearance by Juve's captain Antonio Conte, saw the ball fall to the feet of Alessandro Calori, who struck it with the outside of the right foot and past Edwin Van der Sar. The condition of the pitch left Juve trying to play the long ball forward, but with a lack of imagination in their play and on set pieces Juve were rapidly running out of time. Carlo Ancelotti brought on Darko Kovacevic and Gianluca Zambrotta, who was subsequently red carded by referee Pierluigi Collina for two bookable offensives, Juan Eduardo Esnaider was the last throw of the dice and the last 12 minutes saw Juve camped in Perugia's half, but they couldn't break Perugia's defence.
With 5 minutes of injury time to play Pippo Inzaghi missed a golden opportunity to draw the game level and give Juve a chance of a play-off game against Lazio, who by beating Reggina in Rome by 3-0 have won the Scudetto for the second time, the first coming in 1974.
Having failed to give Lazio a helping hand to land the title last season, Perugia made up for it this time around by 'gifting' the title to the Roman side. Eriksson's men played magnificently and swept aside a Reggina side already assured of another season in the top-flight next year. In the 33rd minute Simone Inzaghi converted a penalty won by Giuseppe Pancaro and Veron doubled the lead four minutes later with another spot-kick. Simeone crowned a tremendous end to the season in the 28th minute of the 2nd half by netting the third and final goal. Favors from Perugia aside, it has to be said that Lazio this season have thoroughly deserved their second title. S. S. Lazio, thanks to the likes of Cragnotti, Sven Goran Eriksson, Mancini and Veron, are the new Italian champions. It therefore goes without saying: well done Lazio!
Quote on the afternoon's events: "This strange afternoon will remain in my mind for a long time." -- Juventus coach Carlo Ancelotti.
Lazio Management:
Position
Name
Translation
Coach
Sven Goran Eriksson
allenatore
President
Sergio Cragnotti
presidente
Vice President
Dino Zoff
vice presidente
Lazio Team: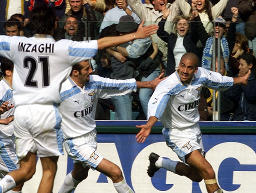 Statistics
for Serie-A 1999-2000.
Wrap-up

Lazio Team Report 
Posted: Fri May 19, 2000 at 3:14 p.m. EDT

Coach: Sven Goran Eriksson (3rd year)


Serie A Record: 21-4-9 Rank: 1st, 72 points - CHAMPIONS Last Result: 3-0 win vs. Reggina, May 14 Streak: Won 4 Top Scorer: Marcelo Salas - 12

Lazio are champions of Italy. In an incredible climax to the season, Lazio did its job by defeating Reggina 3-0, courtesy of goals by Simone Inzaghi, Juan Veron (both penalties) and Diego Simeone. Then came the wait for news from the rain-delayed Perugia-Juventus game. The Lazio fans invaded the Stadio Olimpico field and when news came through that defender Alessandro Calori had given Perugia the lead, the celebrations were greater than for any Lazio goal. ... The final whistle came almost an hour after the end of the Lazio game and triggered a celebration in which the Lazio fans poured into the city streets, painting them blue and white for an evening. Lazio had been nine points behind its Turin rivals in early spring and the championship seemed all but lost for yet another season. But in the end, most neutral observers agreed that the best team had won. Lazio win the Scudetto for the second time. And celebrate! Its previous win had been in 1974, when coach Tommaso Maestrelli led a team that included Giorgio Chinaglia, Pino Wilson, Luciano Re Cecconi and Renzo Garlaschelli. Lazio's season was almost perfect, considering it was involved on three fronts (Serie A, Coppa Italia & Champions League) until April and rounded off its championship victory by winning the Coppa Italia against Inter. Elimination by Valencia in the Champions League was disappointing, but victory in Serie A more than made up for that. ... Claudio Lopez should join the club from Valencia next season, along with Roberto Baronio from Reggina. There also are rumors that that Rivaldo and Christian Vieri also could be playing at the Stadio Olimpico next season...Marcelo Salas and Matias Almeyda seem destined to leave and Roberto Mancini has retired. ... Goalkeeper Fabian Carini should arrive from Uruguayan club Danubio.

c 2000 SportsTicker Enterprises, LP
Game by game recap of this miracle season:
The second half of the season began with Lazio beating Bari and Torino respectively and drawing with Parma at the Tardini. They then travelled to Milan to face A.C., Lazio were defeated by two penalties, this meant that A.C. Milan overtook Lazio for the second spot and saw Lazio four points behind Juventus. Goal winners from Salas over Udinese and Nedved at Lecce would take Lazio back into second place but the gap was always of four points. Lazio would soon find themselves six points behind after drawing with Inter at the olympic stadium, and things would get even worst when they dropped nine points behind with an unbelievable defeat to Verona. With only eight matches left in the league things were looking really bad for Lazio. They now had to face the derby knowing that in case of defeat they would be assaulted by their own tifosi who would not tolerate another defeat by their cugini's. Things were looking even worst when Montella put Roma ahead early in the match, but the Lazio that day was not the same from the Lazio seen in the previous games, they came back strong and with goals from Nedved and Veron in three minutes Lazio took victory making the tifosi Laziali still believe. They were to travel to Turin with the gap at six points between each other.
The lineup for Lazio in Turin: with Nesta and Marchegiani both injured, the defense was a little suspect: Ballotta in goal with a back four of Negro, Couto, Mihajlovic, and Pancaro; at midfield were Almeyda, Simeone, Conceicao, Nedved, and Veron; the lone striker was Simone Inzaghi. This created a family rivalry as well, with Pippo Inzaghi in the lineup for Juventus, along with del Piero up front. Zinedine Zidane, Edgar Davids, Pessotto, Conte, and Ciro Ferrara played, with Edwin van der Sar in goal. That night the unexpected happened, Diego Pablo Simeone's amazing header gave Lazio all three points reducing the gap to only three points. The play immediately followed Ferrara's sending off for a second yellow in a span of just thirteen minutes. It was Juventus' only home defeat of the campaign.
The following two matches Lazio would defeat Perugia and draw at Fiorentina with a late equalizer by Batistuta, the gap was now five points and despite defeating Piacenza the gap remained the same. The season seemed to have ended but something gave the Lazio players that belief that most people had lost and they were to be rewarded! The following matches saw Lazio beat Venezia and Bologna and saw Juventus lose ground, the gap was now only two points with one game to go.
The last day of fixtures was a real THRILLER, Juventus were away to Perugia but the game got suspended due to heavy rain, in the meantime at the Olimpic Stadium Lazio had easily beaten Reggina closing the season at 72 points. In Umbria the weather had somewhat cleared up and the match had resumed on a somewhat waterlogged pitch. In the Olimpic Stadium tens of thousands of Lazio Tifosi listened to the Juventus match from the speakers in silence. At the goal of Calori the stadium exploded but was soon back in silence as they all got the impression that Juventus had equalized, it was a false alarm and thankfully so. They listened to the five minutes of added time with nerves that were about to explode but Juventus failed to equalize and handed Lazio the second Scudetto of their history. The Olimpic Stadium was now a place of celebration, Songs such as "WE ARE THE CHAMPIONS" and "DU'ORE" were sung, what a day it was, surely one if the most spectacular days in Serie A History and what made it even more spectacular was that La SOCIETA' SPORTIVA LAZIO was crowned

SERIE A CHAMPIONS.
Final Table: Statistics Page, now with weekly Results and Tables
History of Italian Champions: Serie A Page, includes runners-up since 1898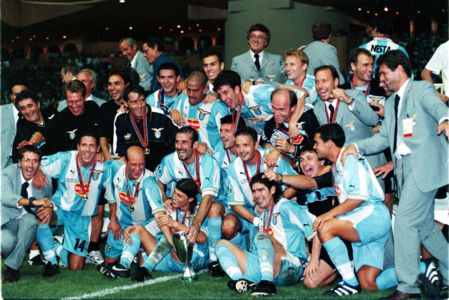 More Photos of S.S. Lazio 2000: Celebrazio Photo Gallery, including the Scudetto, Coppa Italia badge, action shots, and dozens of special features
Champion Jerseys and other memorabilia available now on
Lazio Store
.
UEFA SuperCup Champions

Report from Monte Carlo, Monaco, Stade Louis II,  August 27, 1999
UEFA Cup Winners' Cup S.S. Lazio vs. 
UEFA Champions League Winners Manchester United

Marcelo Salas netted the game-winner, only goal of the game in the 35th minute. A pass from Roberto Mancini created the play. Lazio 1, Manchester United 0. Salas had just entered as a substitute moments before, replacing the injured Simone Inzaghi. Luca Marchegiani's skills in goal were needed to keep the scoreline.
Lazio earned the entry into this year's UEFA SuperCup by winning the final Cup Winner's Cup against Mallorca in May 1999. The Cup Winner's Cup tournament has since been merged into the UEFA Cup tournament. Manchester United had earned entry in thrilling fashion, defeating Bayern Munich with 2 goals in the closing minutes of the Champions League final in May, 1999.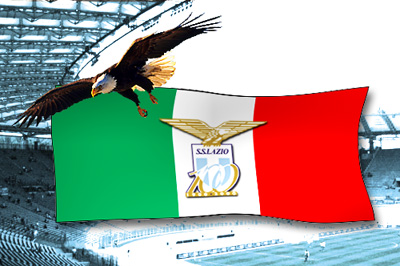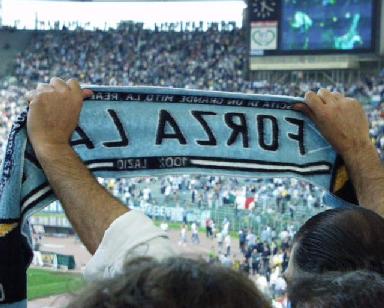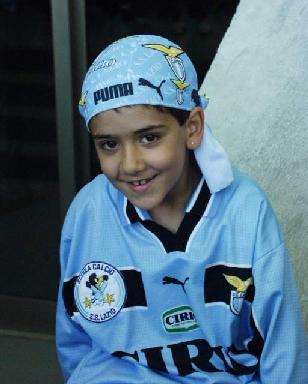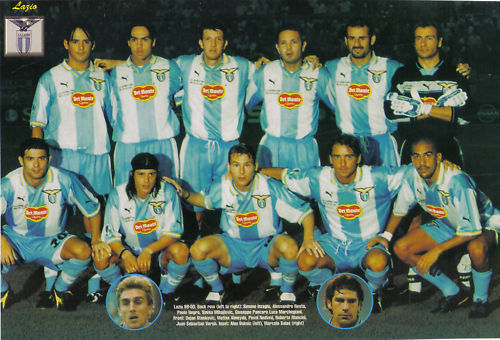 Lazio team lining up for the SuperCup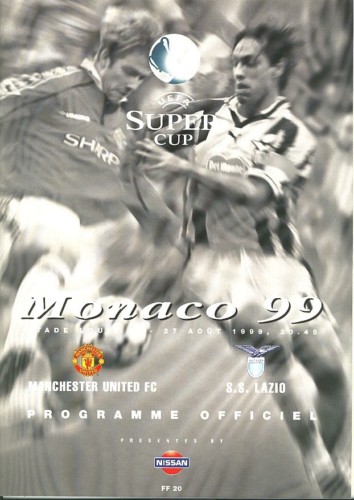 SuperCup showdown with Manchester United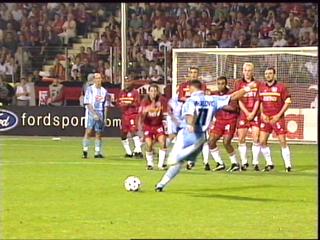 The Bomber of Borovo - Mihajlovic - scores long range once again!
Calcio Leading Scorers
Goals
Player
Club
24 (7 Pen)
Shevchenko
Milan
23
Batistuta
Fiorentina
22 (5 Pen)
Crespo
Parma
18 (6 Pen)
Ferrante
Torino