Bicycling - Shimano Road Bike Parts Compatibility - Disc Hydraulics
Sep., 2019
Shimano compatibility charts come in handy for assembling your bicycle, planning purchases, or troubleshooting. This page provides road disc brake parts such as hydraulic hoses.
Contents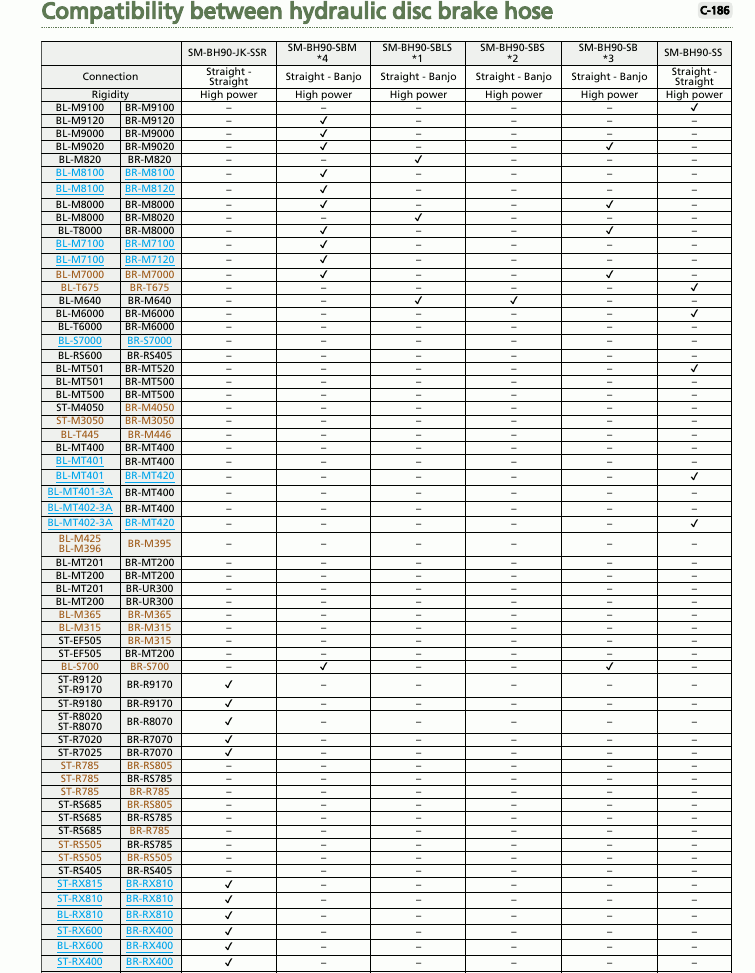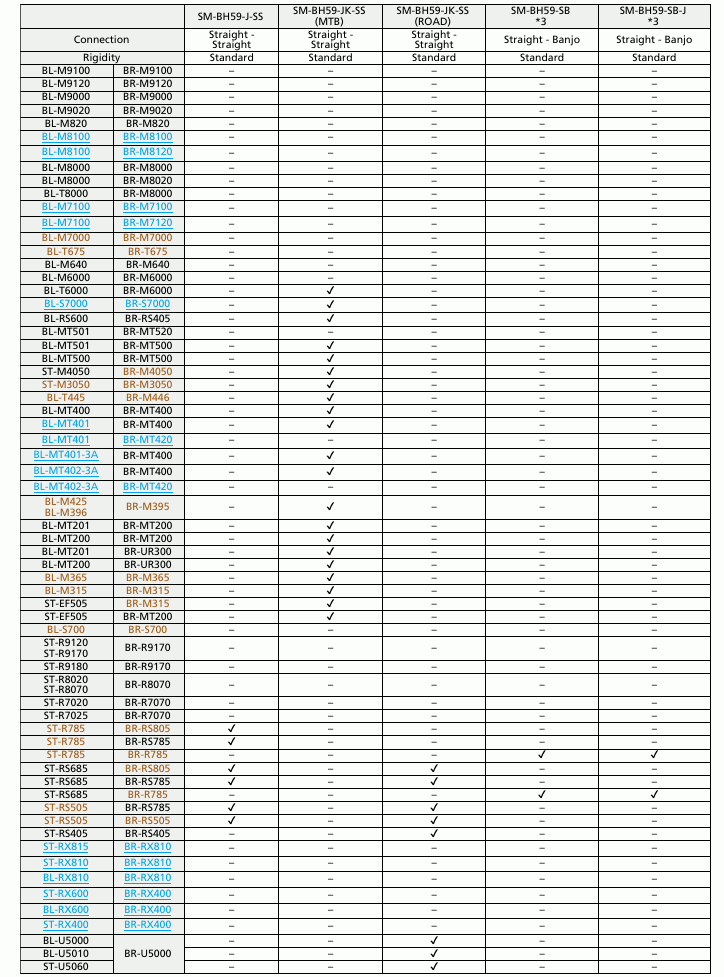 How to Read the charts:
If you have the brake lever in the first column and the brake caliper in the 2nd column, look for the check mark(s) in your row for compatible hoses to use. You may need to check in both top and bottom charts to get the complete picture.



Source:
These charts were published by Shimano.




Next some Shimano products available from our affiliated shop: Amazon (speedy delivery, good selection). The below links take you there.
Rear derailer capacity limits For Details, see derailer capacity table. Shimano charts provide for an exception to the compatibility rules between cassette sprockets and rear derailers. Specifically, only the 7900-, 6700-, and 5700- series rear derailers have sufficient capacity to support a cassette with sprockets differing as much as 16 teeth or more from small to large cog. For this reason, the 11-28 tooth cogset (17 tooth difference), available in 7900-, 6700-, and 5700- series is not compatible with the older series rear derailers. The 11-27 tooth cogset, only available in 7900-series, has the same limitation. For the older 10-speed derailers (7800-, 6600-, and 5600-series), the maximum cogset tooth size difference supported is up to 15 teeth (as in the 12-27 size).
Part Naming Color Codes Shimano parts such as FC-6601 may have a 1-letter suffix, for example FC-6601-G. This letter is a color indicator and for the purposes of compatibility, this letter is ignored. The color does not affect compatibility in any part combination. Use the charts and the magic app without the color suffix. Other suffixes were for example, RD-5600-S (silver), ST-5600-L (black), where the FC-6601-G is gray. Parts with no suffix are silver, as is the suffix S, only used when there is another color option for the same part.
Rear Derailer Naming and Charts The Shimano charts leave off mention of triple rear derailers, but there are important distinctions to be aware of. For the magic app and these note pages, we use the standard "03" naming convention for triple rear derailers. There are actual several possible naming conventions for rear derailers, and it is important to distinguish them. The triple-compatible rear derailers, designated on this site as RD-6603 and other IDs ending in "03", have a longer cage to be able to take up more chain, as triples run longer chains than doubles. In other places, these triple rear derailers are designated "GS" as in "RD-6600-GS". These are the same thing. One other description you will hear is "long cage" or "medium cage" to refer to road triples. On a road bike, it's considered long since it's longer than a short-cage RD used for doubles. But since there exist even longer cages (on MTBs for example), the road triple RDs are also called "medium cage" sometimes. Double Derailers: These are designated here as ending in "00" or "01". Other places use "RD-6600-SS" and other IDs suffixed with "SS", or possibly "RD-6600" short cage. There is little difference in functionality among RDs, so the Magic app assumes compatibility with respect to triple RDs as parallel to double RDs.
Tip: for triple rear derailers, look for "GS" or "long cage" (sometimes aka "medium cage") or the "03" or "04" numbers. For double rear derailers, look for "SS" or "short cage" or the "00" or "01" numbers.