Bicycling - Shimano Road Bike Parts Compatibility - 2010
Shimano compatibility charts come in handy for assembling your bicycle, planning purchases, or troubleshooting. We have included their compatibility charts from 2010 here as well as notes to these charts. The Japanese Shimano site has proven the most handy as they have more charts available and it seems that their charts are more helpful than some of the English language versions we've seen. And Japanese ability isn't critical to understanding them. Just follow the lines. Comments welcome if anyone gets stuck.
Page Contents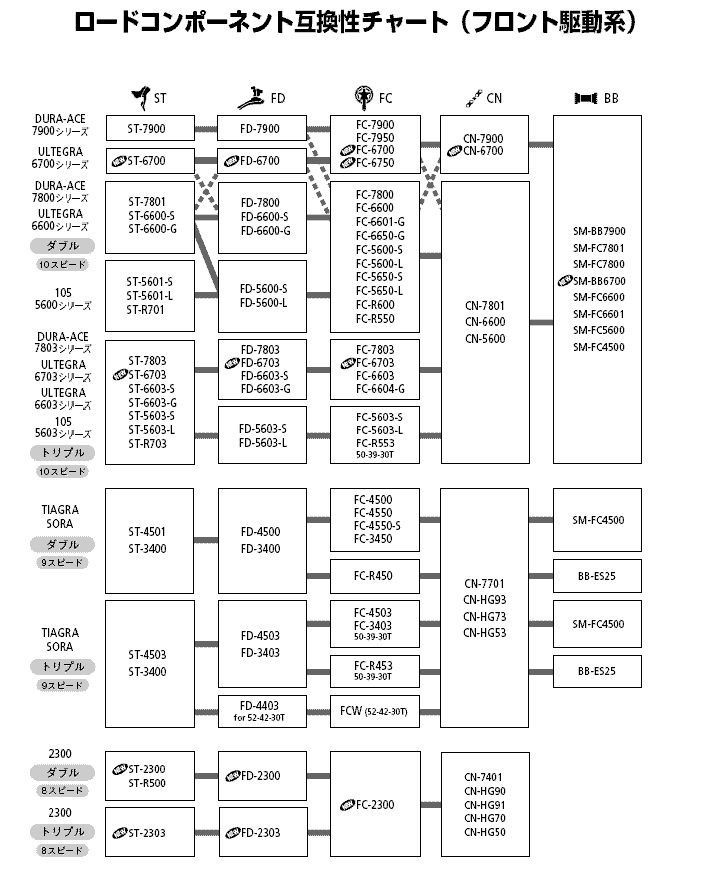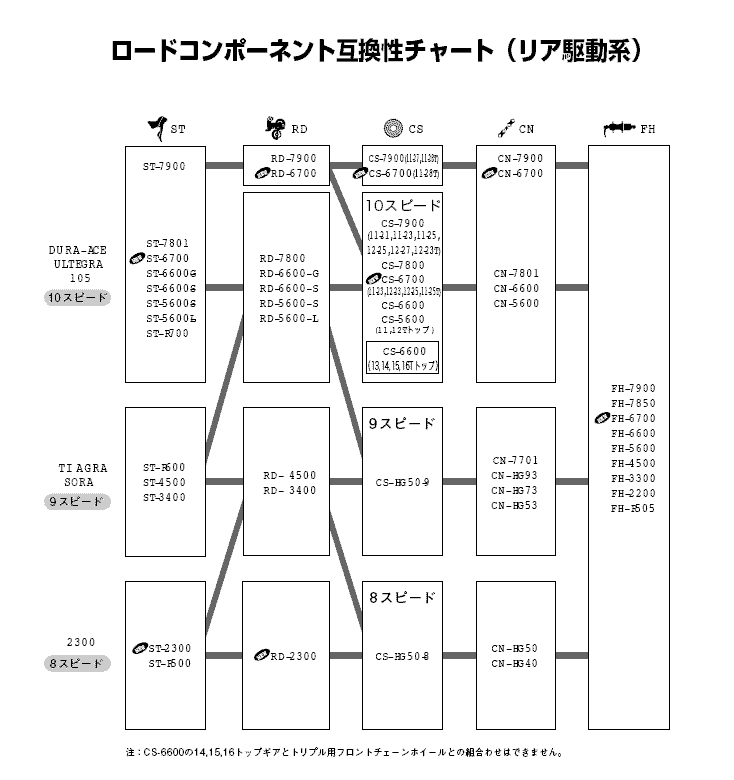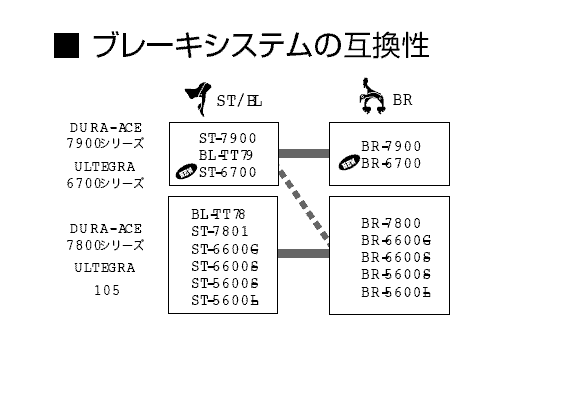 Next some Shimano products available from our affiliated shop: Amazon (speedy delivery, good selection). The below links take you there.
Shimano R700 (crankset) is the compact version of Ultegra (back in 2008). R600 is the compact version of Shimano 105.
Triple Crank and compatibility: See the 2011 front drivetrain compatibility chart above for some details. The left (front) shifter, the crankset, and both derailers may be specific for a triple gearing. If you have a 105 front brifter, you may be lucky as it's non-indexed so the same brifter can be used with a double or a triple. If yours is Ultegra, there should be a difference so you need the specific front brifter for double or triple whether you're on the 6600 or 6700 series. The front derailer has much different spacing on a triple crankset. And the rear derailer has a long cage to collect more chain - so both of these are specific for triple gearing. Another thing that many people don't realize - the new Shimano chains are *not* triple-compatible. (As indicated on the 2011 compatibility chart), The reason for this is that the new chains (CN-7901, 6701, or 5701) do not allow enough lateral movement. So for the moment, your triple chain needs should be satisfied by KMC, by SRAM, Wippermann maybe, or by the older Shimano chains (CN-7801, CN-6600, CN-5600).
Brake Shoes and Pads R55C3 is the model number for the Shimano branded spare brake pads (2011). It comes in different compounds for alloy (aluminum) and carbon rims. The pad length is 55mm and this pad is compatible with BR-7900, BR-7800, BR-7700, BR-6700, BR-6600, BR-6500, BR-5700, BR-5600, BR-5501, BR-5500, BR-R650, BR-R600, BR-R561 calipers. R55C3 replaces the R55C model which used the same specification but slightly different compounds. Kool Stop has for many years marketed fully compatible replacement pads in a few different compounds. Swiss Stop markets high-performance pads which are also compatible. There are also a few other vendors.
FC5603 crank limitation For compatibility with front derailer FD5603, the FC5603 Shimano 105 crank should use chainrings of 50-39-30 tooth sizes. This is in Shimano charts for Front Drivetrain, 2008 and 2009. This likely indicates a limitation in the front derailer capacity, but I don't know why the Ultegra FD6603, which has capacity for the standard 52-39-30 tooth ringed Ultegra triple crank, would not also support the smaller toothed 105 crankset. There is no compatibility shown for this combination in any of the charts.
Rear derailer capacity limits For Details, see derailer capacity table. Shimano charts provide for an exception to the compatibility rules between cassette sprockets and rear derailers. Specifically, only the 7900-, 6700-, and 5700- series rear derailers have sufficient capacity to support a cassette with sprockets differing as much as 16 teeth or more from small to large cog. For this reason, the 11-28 tooth cogset (17 tooth difference), available in 7900-, 6700-, and 5700- series is not compatible with the older series rear derailers. The 11-27 tooth cogset, only available in 7900-series, has the same limitation. For the older 10-speed derailers (7800-, 6600-, and 5600-series), the maximum cogset tooth size difference supported is up to 15 teeth (as in the 12-27 size).
Junior sprockets with 13 or more toothed top gear A difference exists in cassette sprockets labeled CS-6600 which are for "junior gearing". Do not use the "junior gearing" CS-6600 sprockets with normal freehubs - they do not fit. Junior gearing CS-6600 sprockets can be identified as having a top gear of 13, 14, 15, or 16 teeth. The normal size sprockets, which are compatible with all normal freehubs, can be identified as having a top gear of 12 or 11 teeth.
Another important difference exists with the junior sprockets: their spacer requirements differ. Riders planning to try one of the sprockets with top gear 13 or more teeth - research this part carefully. Other riders can safely follow the compatibility charts for your planning.
Finally, do not use one of these junior sprockets with a triple front chainwheel -that combination is not compatible.
Part Naming Color Codes Shimano parts such as FC-6601 may have a 1-letter suffix, for example FC-6601-G. This letter is a color indicator and for the purposes of compatibility, this letter is ignored. The color does not affect compatibility in any part combination. Use the charts and the magic app without the color suffix. Other suffixes were for example, RD-5600-S (silver), ST-5600-L (black), where the FC-6601-G is gray. Parts with no suffix are silver, as is the suffix S, only used when there is another color option for the same part.
Brake and Shift Cables
Derailer: For best results always replace the cables when upgrading any drivetrain part. In 2010, Shimano introduced colored cable housing options whereas previously only "Dura Ace Gray" was available. The SP41 PTFE cableset is standard replacement derailer cable and housings for the Shimano 7900 Dura-Ace system. Compatible with all 7- through 10-speed Shimano road shifter/derailer sets as well as SRAM. Shimano's 7900 shift cable/housing set is ideal for the Dura-Ace 7900, Ultegra 6700, and 105 5700 STI levers with cable routing under the bar tape. In fact, it was because of the under-the-bar-tape cable positioning change first designed for Dura Ace 7900 that the PTFE-lubricated housing was introduced. PTFE (better known as DuPont Teflon) coated cables do a good job of minimizing friction and greatly enhance shifting performance. The engineers at Shimano have spent countless hours researching and developing shift cables and housing that will optimize the performance of their shifters and derailleurs. The PTFE(Teflon) coated derailer cable set is the most advanced they have ever produced. A complete set of cable and housing for Shimano derailers (enough for one road bicycle) features 4mm SIS-SP41 housing; Choose your color; Weight: 160 grams (reported); Cable Diameter: 1.2 mm; Cable Lengths: 2 x 2000 mm; Stainless steel cable for long life in all conditions. (Tip: Use the "gray" Dura Ace pack to get all end caps and ferrules to complete the job - the blue pack has been reported to contain fewer of these).
Brakes: The 7900 Dura-Ace brake cable set has been optimized for Shimano levers but makes a great upgrade for most road systems. New super low friction PTFE coated cables virtually eliminate excess friction for top performance. The brake cable end fits road bike levers only. A complete set of cable and housing for Shimano brakes (enough for one road bicycle) features 1400mm x 5mm housing x 1; 800mm x 5mm housing x 1; 2050mm x 1.6mm cable x 1; 1000mm x 1.6mm cable x 1; PTFE coated stainless steel cable for long life in all conditions; two cable crimps, and two ferrules. 178 grams (reported).
Computers
The Shimano Flight Deck SC-6502 Computer head features the following: gearing and wheel size data for four bikes can be programmed and accessed from one computer head. Program one, two, or three chainrings; display shows the number of chainrings programmed. Gear size display: once shift is made, computer will momentarily show what chainring/gear combination bike is in, 53-12 etc. One button on each brake lever controls computer function.
Bracket and sensor kit sold separately. Compatible with compact road gearing.
Compatibility: The Flight Deck SC-6502 computer will work with STI levers ST-7800, ST-7900, ST-6600, ST-6603, ST-6700, ST-6703, and ST-5600. It is not compatible with brifters ST-5700 or ST-5703. Use the wireless harness for all of the 10-speed brifters and the SC-6502. (10-speed Harness is ID SM-SC70) The wireless harness isn't completely wireless though. There are still wires that run from the STI levers to the computer (underneath the handlebar tape). But there is no wire running down the fork to the pickup.
The older SC-6501 Flight Deck will work with most 9-speed Shimano brifters. (ST-7700, ST-6510, ST-5500) Source: Shimano Tech Docs.
The Flight Deck computer is quite interesting. You pre-configure the computer to know what gears you have; whether the cassette is a 12-25 or a 11-23, for instance. The STI levers tell the computer what gear you're in. So, the computer always knows your gear ratio. From that, and from the wheel pickup, it knows how fast you're riding. And since it knows your speed and your gear, it can calculate your cadence. (The odd "feature" with this is the virtual cadence: it does not know whether you are pedaling at all, so on your downhill coasts, you will see a cadence value well over 100 when you're not even pedaling)
Shimano 105 Triple Shifter Change The 9-speed 105 front (left) shifter (model ST-5500 or ST-5510) is compatible with both a double or a triple crank configuration. Shimano's move to 10-speed cogsets initially started out like this: the 105 front shifter (left, ST-5600) was compatible with both a double or a triple crank configuration. But Shimano saw a large number of warranty claims due to breakage of the shifters caused by improper setup early on. Their response was to introduce the double-only compatible ST-5601 and the triple-only ST-5603. Ultegra and Dura-Ace already had the double-only and triple-only shifters.
So, an ST-5601 left shifter is the only one of the 10-speed 105s which is not compatible with triple cranksets. ST-5600 or ST-5603 are good for triples, and ST-5600 is actually a little more prone to damage when setup for double cranks.
Rear Derailer Naming and Charts The Shimano charts leave off mention of triple rear derailers, but there are important distinctions to be aware of. For the magic app and these note pages, we use the standard "03" naming convention for triple rear derailers. There are actual several possible naming conventions for rear derailers, and it is important to distinguish them. The triple-compatible rear derailers, designated on this site as RD-6603 and other IDs ending in "03", have a longer cage to be able to take up more chain, as triples run longer chains than doubles. In other places, these triple rear derailers are designated "GS" as in "RD-6600-GS". These are the same thing. One other description you will hear is "long cage" or "medium cage" to refer to road triples. On a road bike, it's considered long since it's longer than a short-cage RD used for doubles. But since there exist even longer cages (on MTBs for example), the road triple RDs are also called "medium cage" sometimes. Double Derailers: These are designated here as ending in "00" or "01". Other places use "RD-6600-SS" and other IDs suffixed with "SS", or possibly "RD-6600" short cage. There is little difference in functionality among RDs, so we assume compatibility with respect to triple RDs as parallel to double RDs.
Tip: for triple rear derailers, look for "GS" or "long cage" (sometimes aka "medium cage") or the "03" or "04" numbers. For double rear derailers, look for "SS" or "short cage" or the "00" or "01" numbers.
Link to: