Shimano Bicycle Museum, Japan
Nov., 2020
The Shimano-sponsored bicycling museum in Sakai, Osaka, Japan features some technology history, some parts and bicycles on display, as well as a library of bicycle-specific literature.
Photo gallery of Shimano bicycle museum, Sakai, Osaka.
1988 Giro d'Italia Champion Bike Display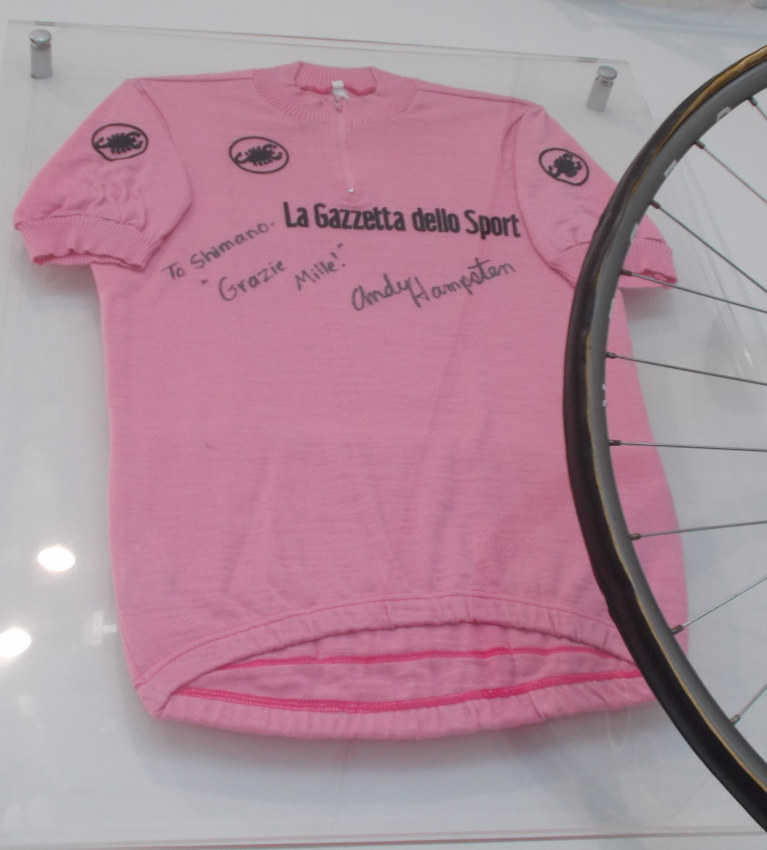 Race winner Andy Hampsten-signed Maglia Rosa jersey.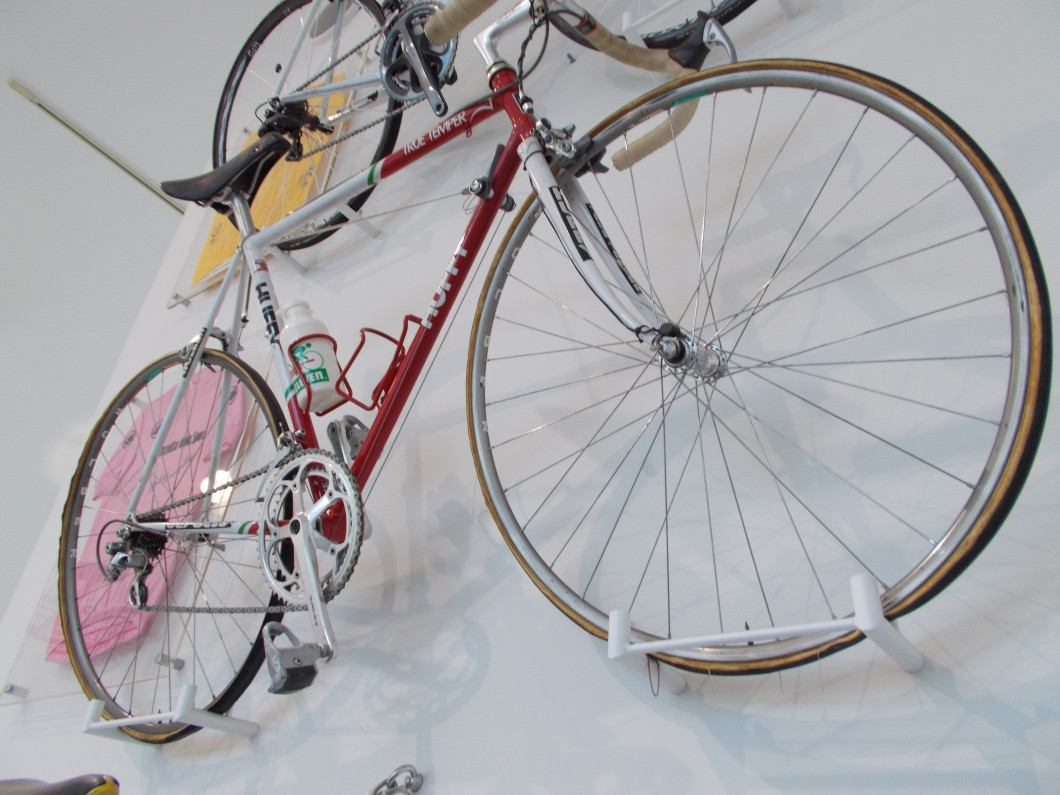 Though sponsored by Huffy, this line was actually normally created by Serotta. However, after suffering a part failure early in the year, Hampsten reached out for his tried-and-true John Slawta (of Land Shark Bicycles) manufactured custom race ride.




More on the 1988 Giro d'Italia:
Andy Hampsten, of the Seven-Eleven Team, won the Giro d'Italia with Shimano's DURA-ACE. It marked Shimano's first grand tour win, the first-ever tour victory for index-shifting, and arguably the start of Shimano's rise to dominance of the pro racing world.
Shimano had revolutionised bicycle gearing just earlier, in 1984, by introducing the Shimano Index System - the world's first indexed gearing system.
The 1988 race is famous as the "blizzard edition", as Andy took the race lead in an attack in heavy snow fall over the Gavia Pass, and subsequently safely descended on to the finish.
The bike: features box-section Wolber aluminum tubular rims and tires; Seven-Eleven water bottle; a deep-drop aluminum handlebar; forged alloy stem; cork tape from Cinelli; wired cyclo-computer, and a Shimano Dura-Ace group (with traditional down tube shifters).



Shimano Legendary Components Photos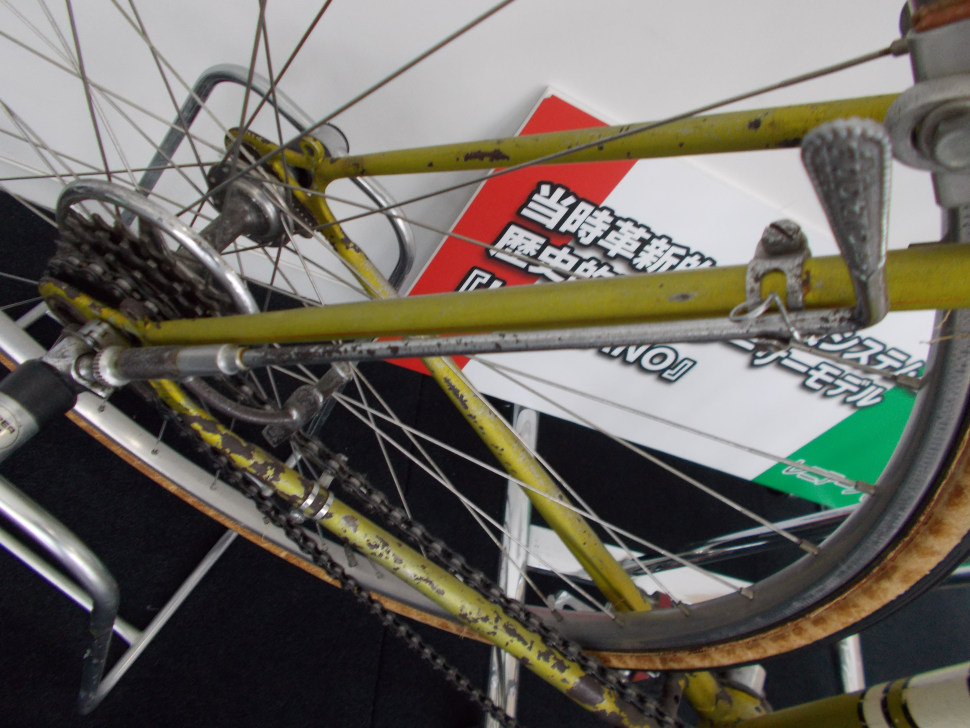 Before Dura-Ace, there was - the chain jigger. Carefully, if still riding, pick the chain off its cog, twist the jigger, and drop it onto a different cog. That's a 5-speed rear wheel, hard to say if the "cassette" is even detachable. And it's hard to imagine this jigger scaling up beyond the 5 cogs.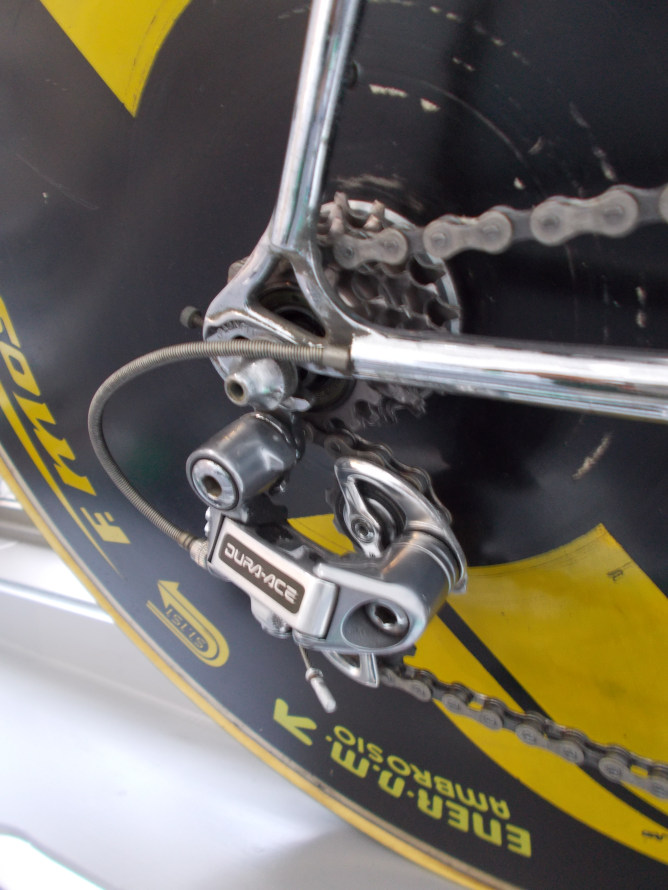 The 1980s Dura-Ace 7400 on a 6-speed cassette. Disc wheel by Ambrosio. This gruppo still featured down-tube shifters.



Bike almanac highlights - from museum library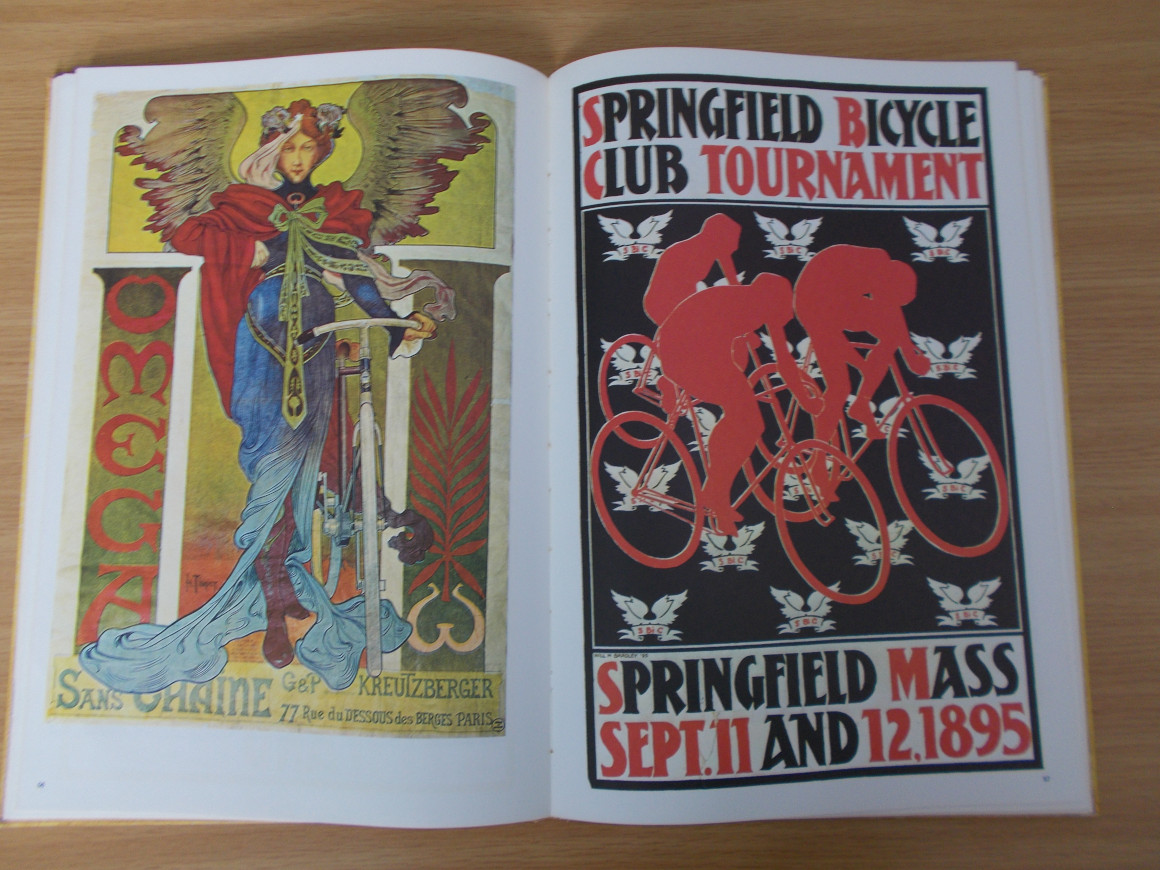 Of course, racing sprang up almost immediately with bicycling, and here in the 1890s it was already well established.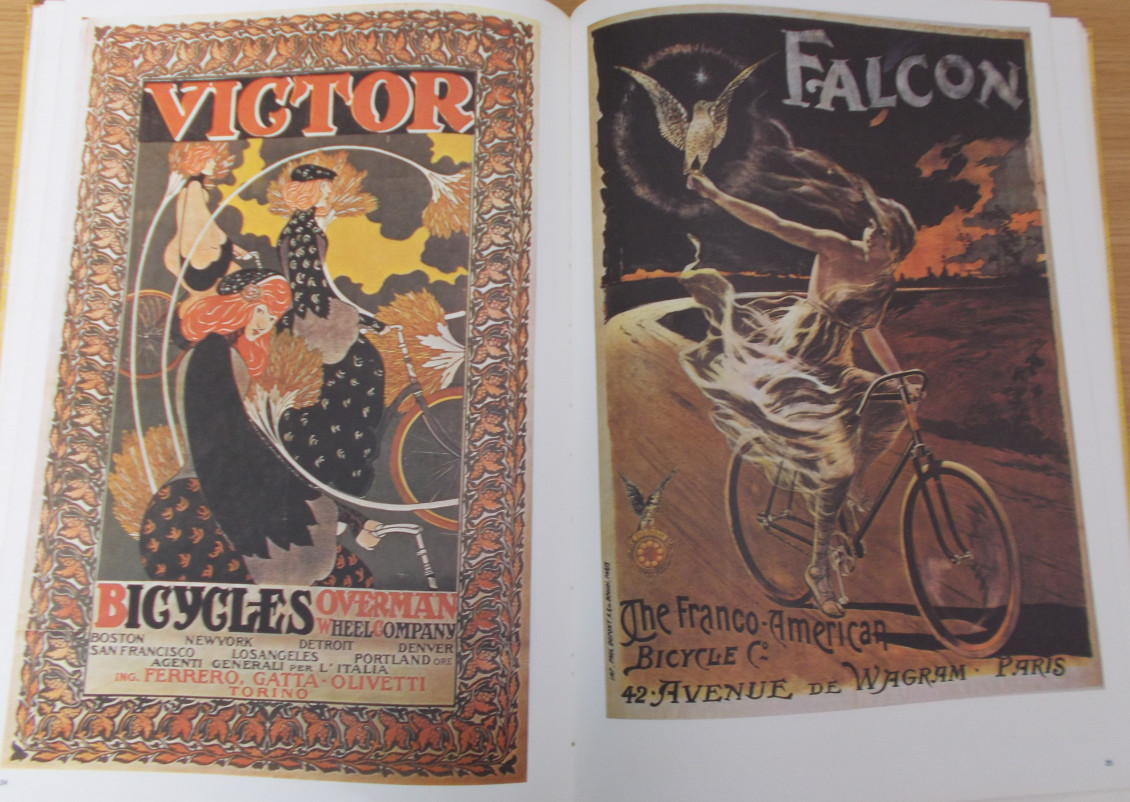 The Franco-American Falcon and the Victor from Overman made these advertisements for Europe and North America, respectively.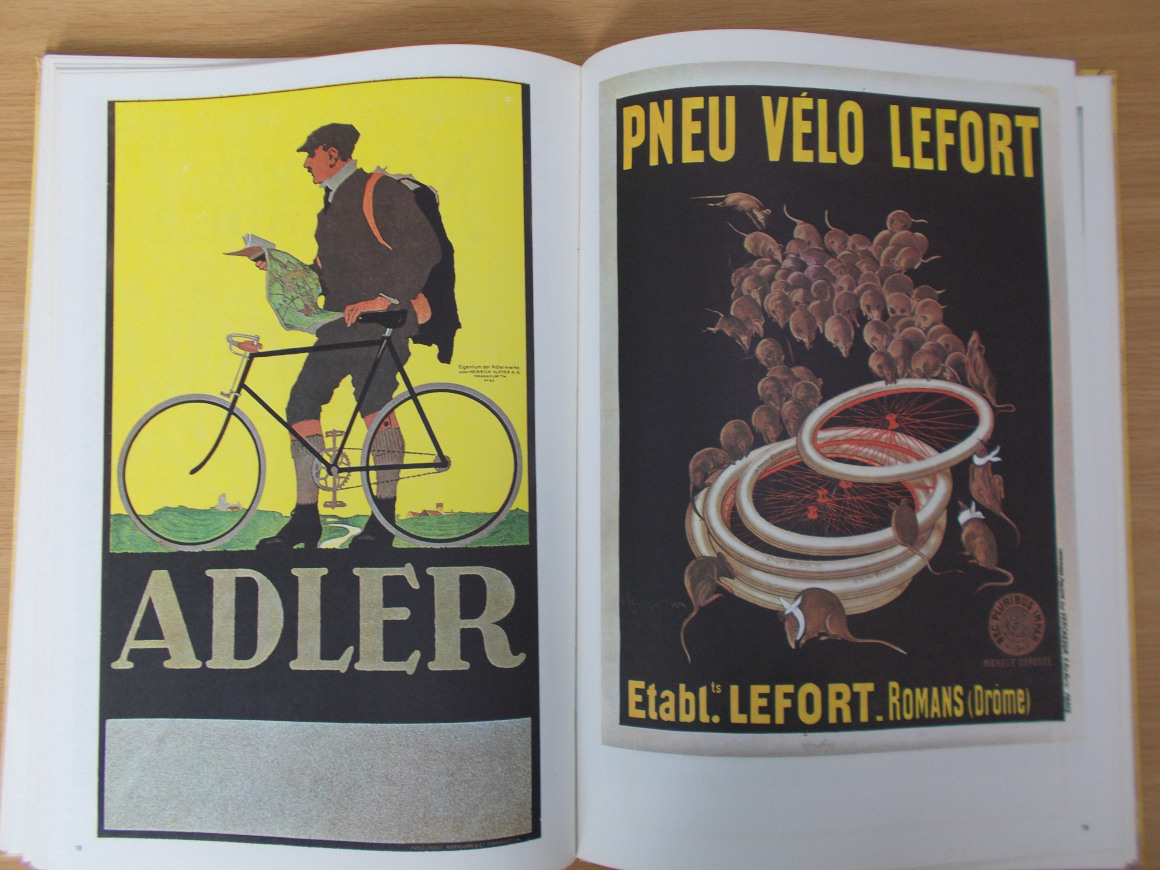 A couple early brands known for durability: the Adler was designed for the long-distance tourer, while Lefort brought special materials to its wheels.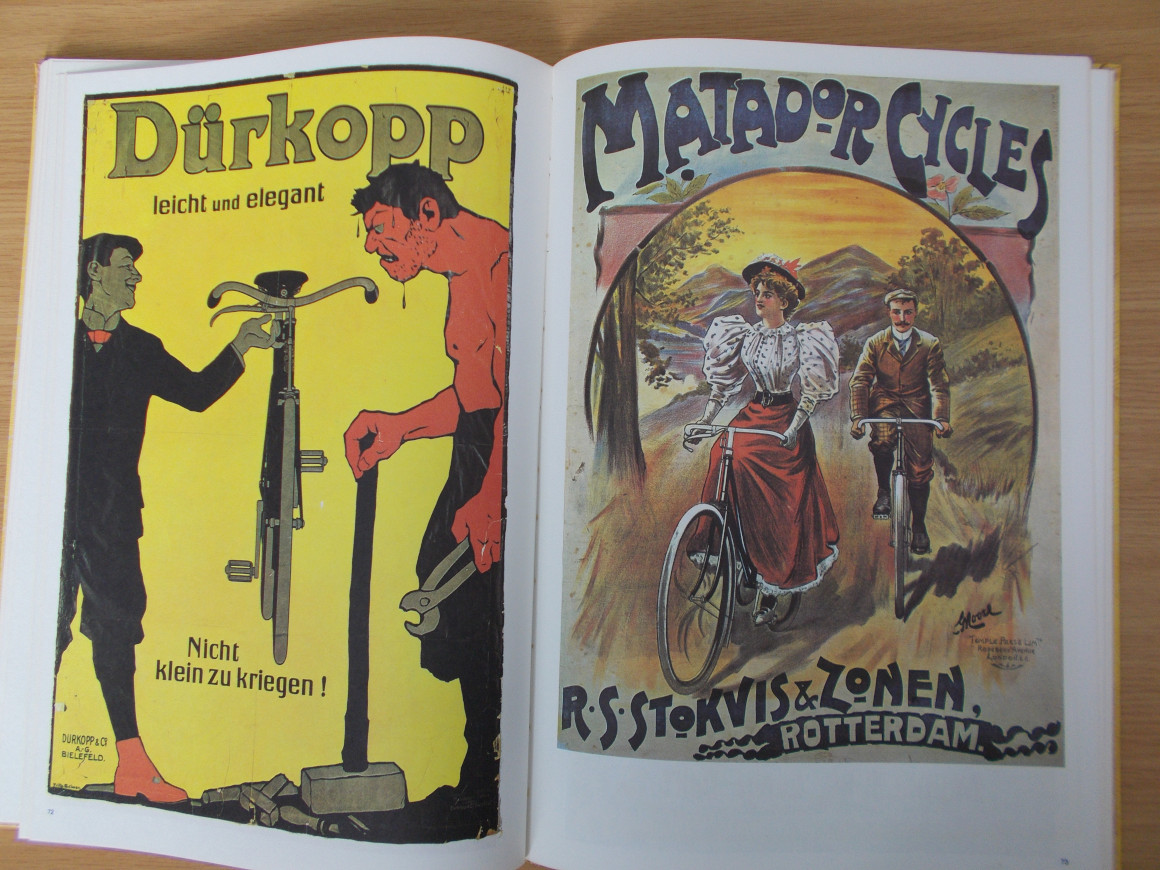 The German Durkopp boasted its lightness and strength, while the Matador from Holland appealed to the posh.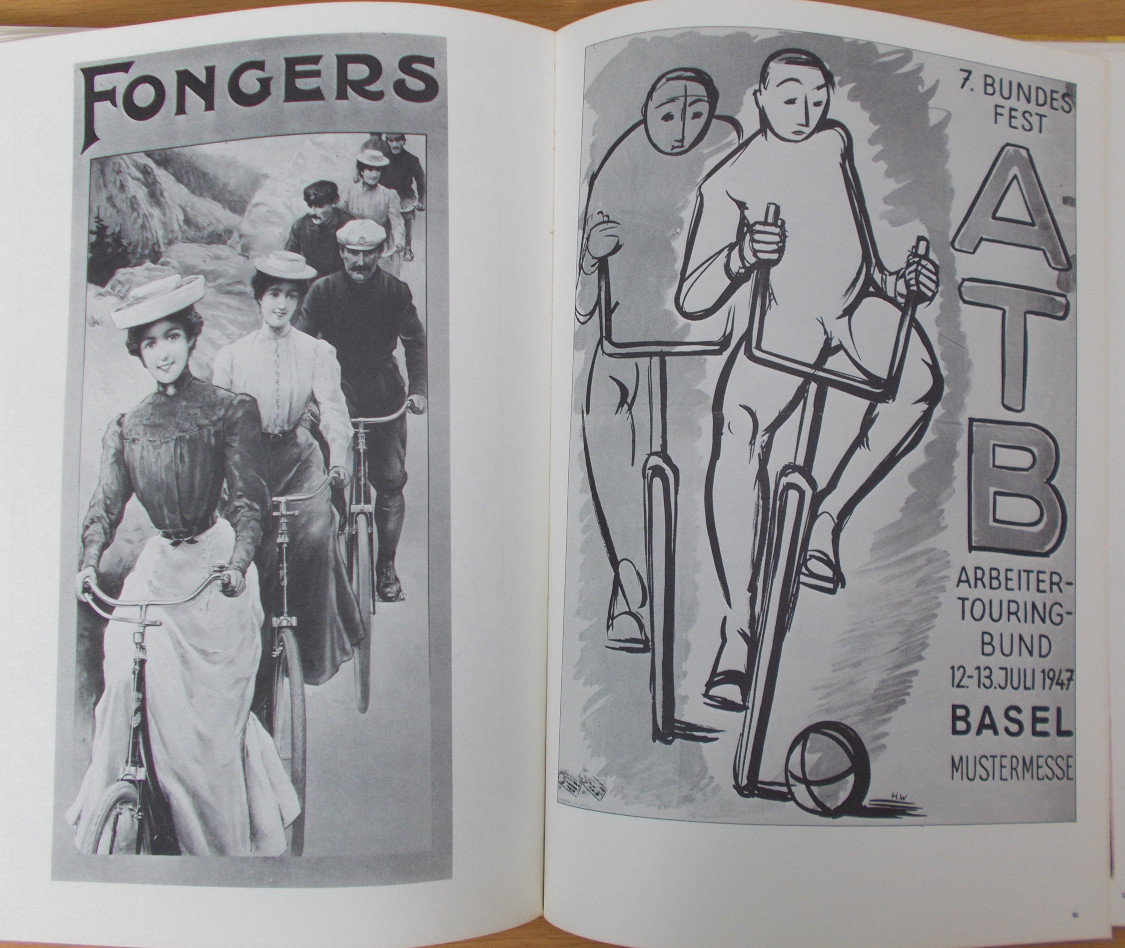 In the 1940s, Fongers appeals to socialites while ATB reaches out to a sporting crowd.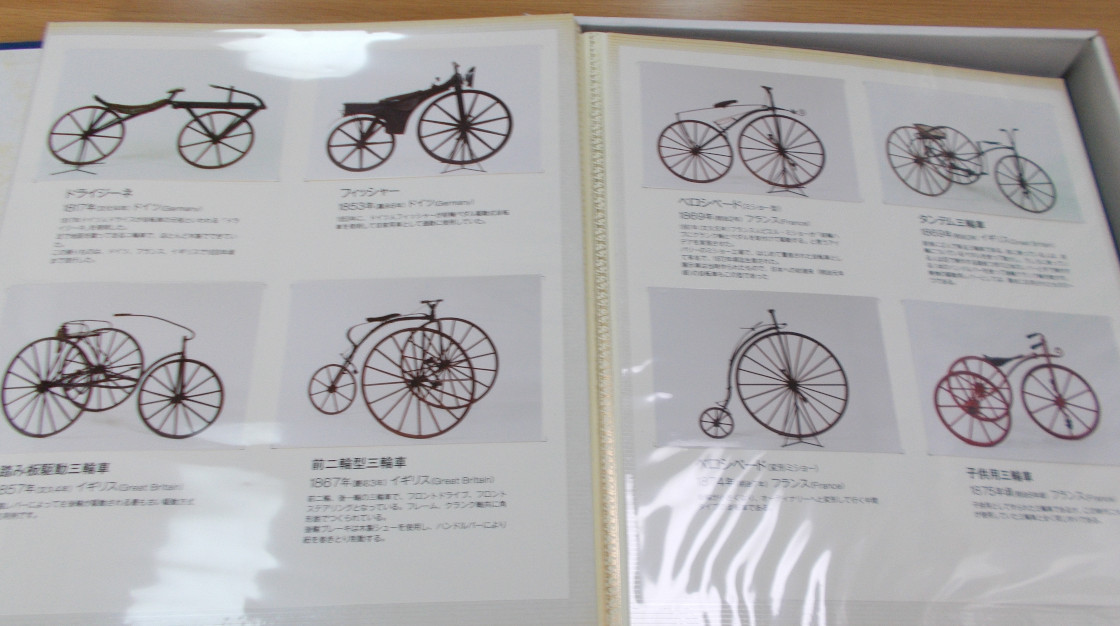 From the old hobby horse to the pedalled tricycles, the evolution of bicycle technology in the 19th century was exciting.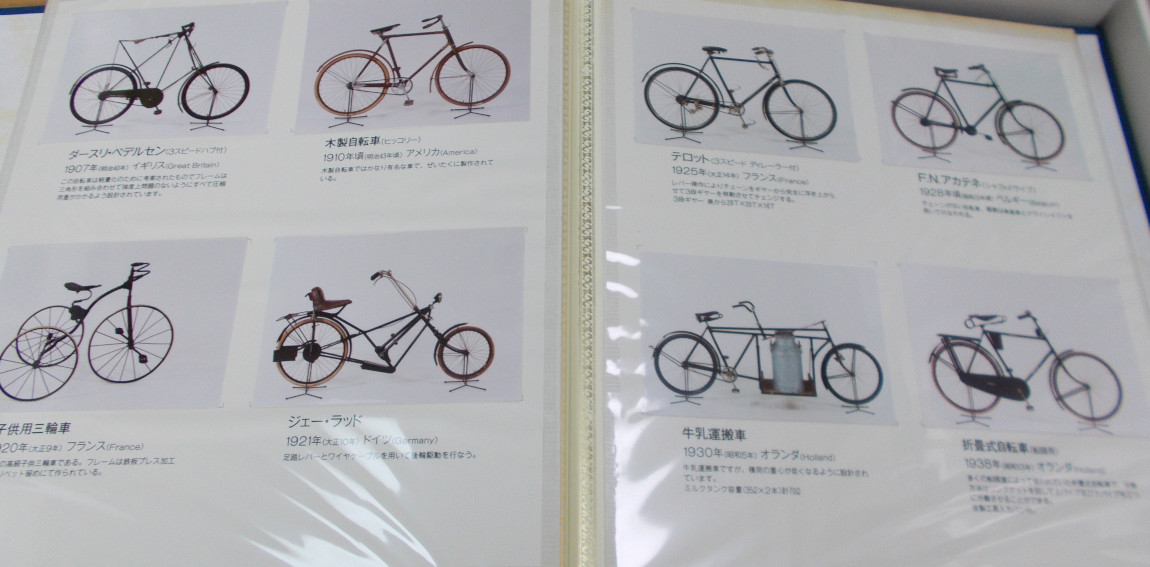 Some of the bikes shown in this almanac are also featured on different floors of the museum.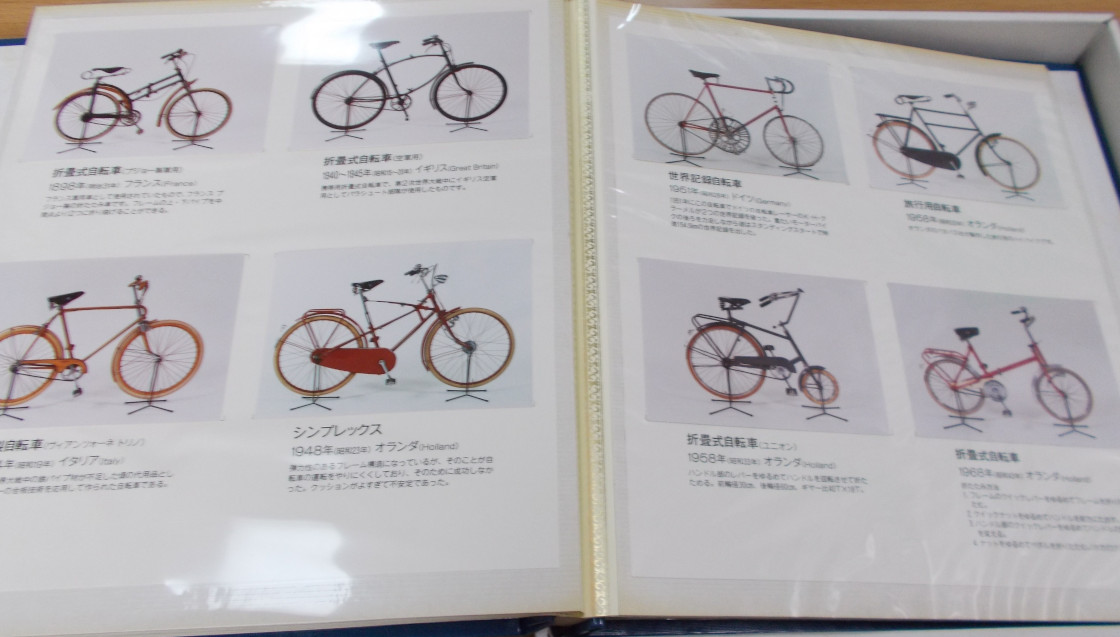 By the 20th century, more diversification in use case, materials, and designs began to appear.



1993 World Champion Bike Display - Lance Armstrong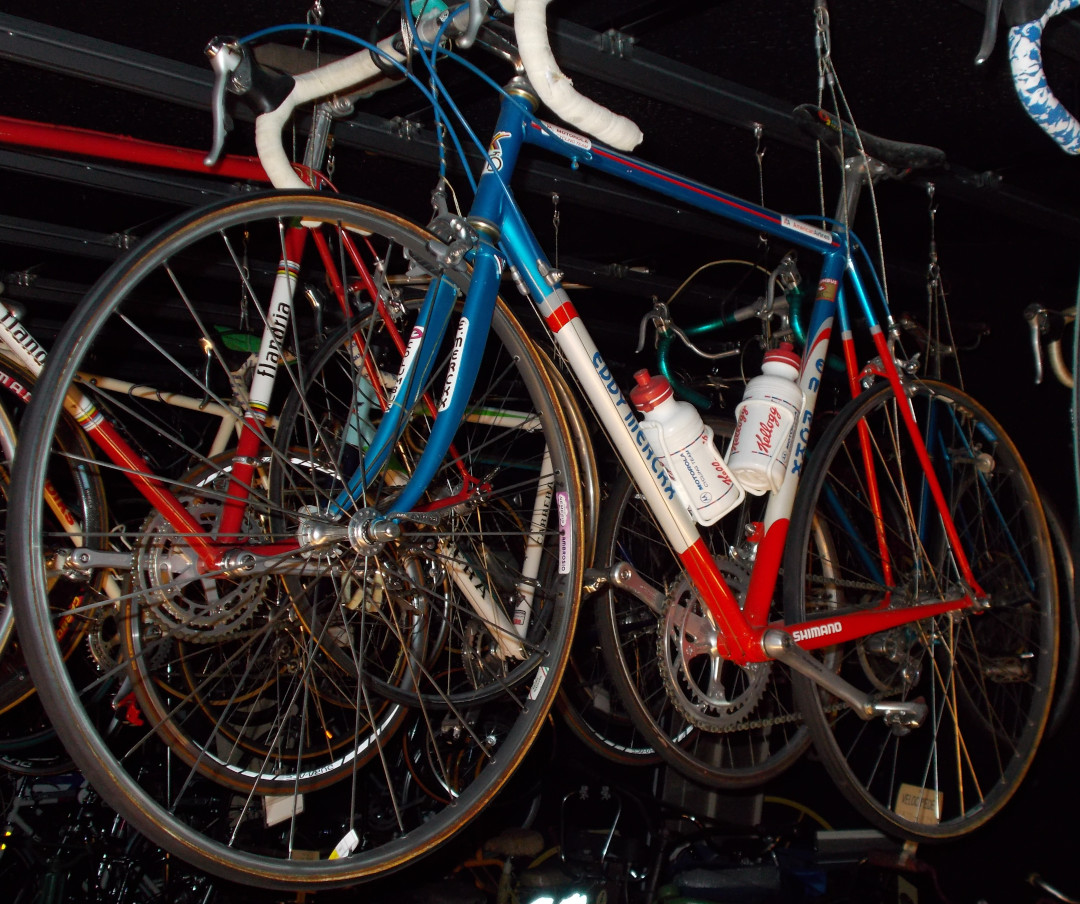 The Eddy Merckx USA team model of 1993, ridden to victory in the Road World Championship in Oslo.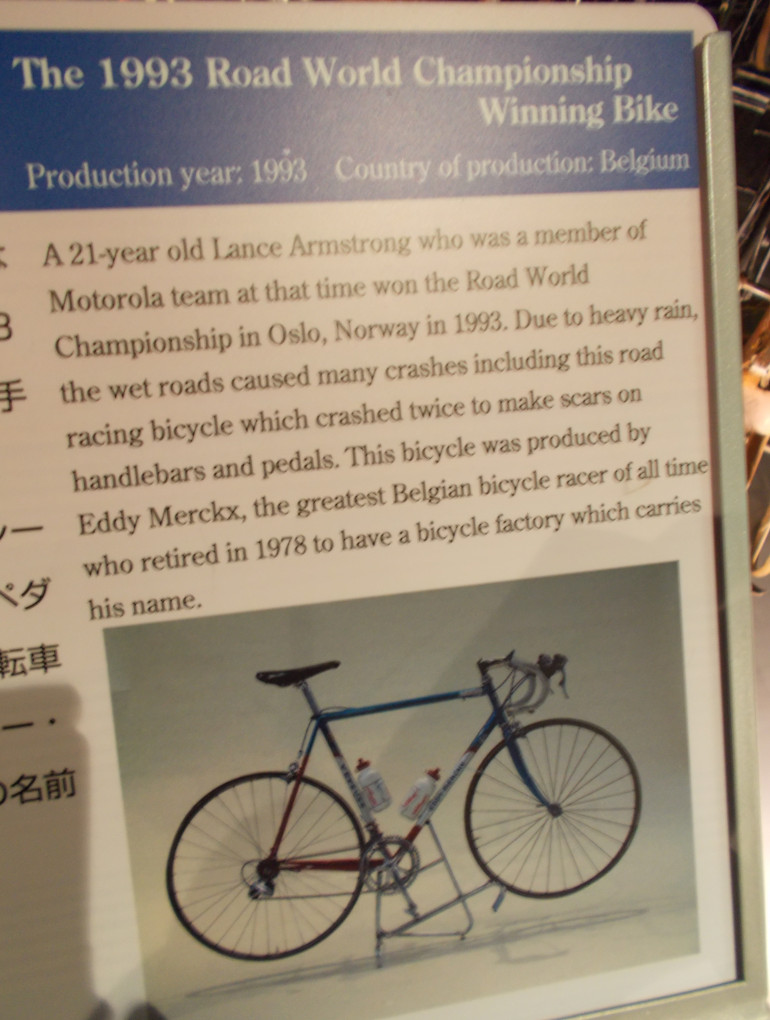 A 21-year old Lance Armstrong who was a member of Motorola team at that time won the Road World Championships in Oslo, Norway in 1993. Due to heavy rain, the wet roads caused many crashes including this road racing bicycle which crashed twice to make scars on handlebars and pedals. This bicycle was produced by Eddy Merckx, the greatest Belgian bicycle racer of all time who retired in 1978 to have a bicycle factory which carries his name.