Coast to Coast Cycling in Japan
Coast to Coast in a fun way: 3 overnight ryokan stays, BBQ dinner, lots of parks, and roads free of speeding cars. See rural Japan, and enjoy great cycling. Recognized by JitenshaJin magazine.
Successful Completion: 2005, 2007, 2008, 2009, 2014, 2023
Route Description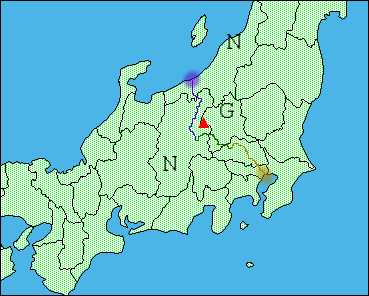 Purple marks the start in Niigata. Gold marks the goal on the Bay (now moved to Tama River @Haneda.
Red triangle is a large mountain we hope to view: Asama-san.
Lines are colored for each day of the ride. "N" marks Nagano (south)
and Niigata (north), and "G" marks Gumma. Colorless (black) lines
mark prefectural borders, of which we cross 4.
Recognition
The JitenshaJin Magazine article about this ride can be found in 4 parts: Part 1, JitenshaJin Coast to Coast from 2008. Part 2, JitenshaJin Magazine article on Leo's Coast to Coast ride. Part 3, JitenshaJin article. Part 4, JitenshaJin article.
Agenda:
Friday: train to Niigata.
Saturday: ~140 km Japan sea - Nagano.
Sunday: ~125 km Nagano - Saitama.
Monday: ~150 km Saitama - Tokyo bay. Then ride (or train) home.
Members:
Pending research and planning for next run. Contact Leo to Join sometime. Member introductions down below.
Plan:
3 days of riding. After meeting in Joetsu, each day's schedule will be finalized one day at a time. Weather will be a factor: if we see bad conditions early, we might wait. But more likely, if we see bad conditions late, we'll leave extra early.
Day 1: Long and hard day, so we'll leave early.
Day 2: Hard, and with difficult navigation.
Day 3: lots of flat, not many cars, longer distance.
Route:
See image above. Some highlights:
Chikuma Gawa千曲川 cycling road. A 25km stretch of day1.
Unno「海野宿」 in Ueda, Nagano. A traditional Japanese old town. Day1, afternoon.
We cross the "continential divide" at an elevation of -- 980 meters -- on day 2, morning, in the mountains near Karuizawa.
Safari Park in Gumma. Day2, afternoon. Watch out for Tigers and Lions.
Our Meal option on day2: BBQ.
End point of the tour: Kasai Rinkai Koen (Arakawa option), or Haneda airport park (Tama gawa option). Please plan your own ride home from here.
Gear:
The 10 Essentials of Cycling
maps
food and drink
spare tubes, tube patch kit
pump
bike wrench and tool kit
mobile phone
helmet
rain/weather wear
first aid kit
camera
lights for night/tunnel/dark places riding
Other goodies: cash!, spare tire for long trips, shoe cleat covers for walking, spare lube in mini container, compass, camera/film, notebook/pen, gloves!, sunglasses, chapstick, balm against chafing ...
Things we get at a minshuku and need not bring: yukata robe, toothbrush, toothpaste, shampoo.
Suggestions
How to train: Time to work on your equipment - get it in perfect shape - then you are ready.
Fast riders help the slow riders: while waiting for the group, whoever gets out ahead, we'll want to do recon, scout routes and terrain for future rides, keep an eye out for bike shops, sights to see. We'll want photos, and of course, tasty places to grab food and drink. Also need people to set the tempo.
Member Wall of Fame
Leo * * * * * *
Aaron *
Brian * * * *
Akiko *
Chris (Honorable Mention)
Paul *
Mike * *
Sumie * (+ Honorable Mention)
James *
Jochem *
Francois *
Jan Willem *
Luke *
Julianne *
Richard *
Pistol Pete (Honorable Mention)