"I regard him as a salesman."
--Jim, in his testimony in response to a question as to whether he regards Netscape Chair Jim Clark "as a truthful man." (October 22, 1998)


Jim Barksdale was hired as President and CEO of Netscape in 1994. Netscape's products revolutionized communications, letting businesses and people communicate faster and better. He served in this role through the company's merger with America Online, completed in 1999.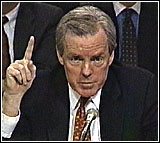 Jim B