"I had never been in a meeting in my 33-year business career in which a competitor had so blatantly implied ...


"... that we should either stop competing with it or the competitor would kill us. In all my years in business, I have never heard nor experienced such an explicit proposal to divide markets."

-- Antitrust Testimony against Microsoft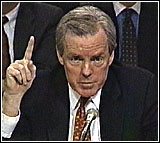 Jim B

Jim was hired as President and CEO of Netscape in 1994. Netscape's products revolutionized communications, letting businesses and people communicate faster and better. He served in this role through the company's merger with America Online, completed in 1999.