"When you get thrown by a horse, the trick is to get back on.
We built this business by charging into the breach. Full speed ahead.

Well, we got thrown.
Let's call it a learning experience and get back on."





Jim was hired as President and CEO of Netscape in 1994. Netscape's products revolutionized communications, letting businesses and people communicate faster and better. He served in this role through the company's merger with America Online, completed in 1999.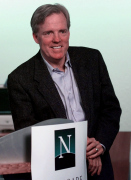 Jim B